Burk's Falls & District Fire Department
"Fighting Fires... Through Education!"
For Emergencies call: 911
---
***  The Burk's Falls and District Fire Department is currently seeking devoted members of our community to join our Fire Department today! Visit our Fire Department Recruitment page for more information and to download the Application Form. ***
---
FIRE RATING: MODERATE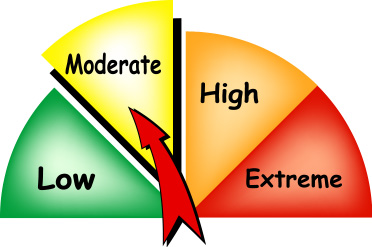 Please Note: 
As of 4pm July 11, 2023 the Restricted Fire Zone has ended!!!
No Daytime burning, be safe and follow the open air burning bylaw.
No accelerants are permitted.
Have water, shovels and anything that can assist in containment available at all times.
All fires must be supervised at all times
Recreational fires shall be no larger than 2FT by 2 FT and 6M from adjacent properties and combustibles.
Non recreational fire shall be no larger than 2M by 2M and 25 Meters from adjacent properties and combustibles. 
If you have any questions with regards to fire safety or the fire rating, please do not hesitate to contact the Fire Prevention Officer at 705-788-4676.
Guide to Fire Ratings

FAQ's
Can I get a burn permit?
NO – We do not issue burn permit for domestic burning.
We issue a general contractor burn permit for land clearing for new builds ONLY.
This requires a fire safety inspection of property before and while burning; there is a cost involved.
Can I have a campfire while the fire rating is on HIGH?
YES – Follow the guidelines as set out in the explanation of HIGH and notes below the explanations.
All fires are to be fully extinguished before leaving.
Can I burn furniture, bed mattresses, and household rubbish?
NO – Do not burn anything that is environmentally unfriendly. Untreated or natural materials only.
Can I have a campfire when the rating is at EXTREME?
NO – No fires are permitted.
When can I set fireworks?
ONLY – When the fire rating is LOW or MODERATE.
Read the manufactures instruction prior setting fireworks.  Please be responsible when setting fireworks.  Though they are fun to watch, once in the air, they are unpredictable.
Can I light and release Chinese lanterns?
NO – There are By-Laws in the municipalities of Burk's Falls, Ryerson and Armour that prohibit this action.
What size fire cane I have?
The fire department would advise when at LOW or MODERATE; no bigger than 6 feet wide and 6 feet tall.  IF you have a fire that is 3 feet in diameter, the flames will most likely be 5-6 feet.  When HIGH,  follow the guidelines as set out in the explanations.  Also, if windy, do NOT burn.
---
SMOKE ALARMS AND CARBON MONOXIDE ALARMS SAVES LIVES!

"Don't be at HOME, TRAILER, OR COTTAGE without them... IT's THE LAW!"

---

Always Think Safety Before Making A Fire And Before Setting Off Fireworks.
Address
162 Huston Street, P.O. Box 70
Burk's Falls
,
ON
P0A1C0
Get Directions
Get In Touch