Burk's Falls Towne Theatre
172 Ontario St. Burk's Falls ON
(Across from the Home Hardware Parking Lot)
** SHOWS EVERY EVENING AT 7 PM **
Camani's Screaming Heads
Cement sculptures of "The Screaming Heads," trees, gigantic spider webs holding down the Four Horsemen of the Apocalypse, and more… Walking trails, peacocks, swans, geese, and ducks arounds the house and ponds. "Reminiscent of Stonehenge, with attention to the configuration of heavenly bodies…… Like solar fins, contorted by the tension of light and dark, the disks scream to eternity". Screaming Heads can be found just off of the Nipissing Colonization Road or accessed from highway 520 just west of Burks Falls.
District Heritage Centres
There are two District Heritage Centres within the area including the Wiseman Corners Schoolhouse and the Watt Century Farmhouse and Heritage Centre. The Heritage Centres are open from May to October. Everyone is welcome. Donations are gratefully accepted.
Both sites are operated by the Burk's Fall and District Historical Society.
Wiseman Corners Schoolhouse
Location: 112 Midlothian Road, Township of Ryerson
Hours of Operation: May to Thanksgiving –  Thursday, Friday, Saturday & Sunday 11:00 am – 4:00 pm
Admission: A suggested donation of $2/person or $10/family.
The Burk's Falls and District Museum was opened in 1997 and is dedicated to the pioneers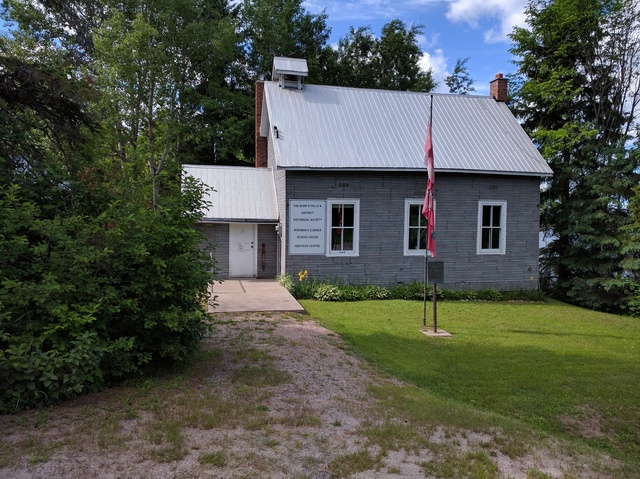 who first settled in this area. Located at Wiseman's Corners, the building is that of the original schoolhouse, S.S. #4 Ryerson. The school was built in 1893 and carried on successfully for about 45 years. The land consists of a half acre and was purchased in 1892 for $1.63. That sum included 63 feet of lumber. Collection consists of many family artifacts including an pump organ, doctor's desk and tools, lumbering tools, horse equipment, household items including cream separator, many pictures of the riverboat era, war memorials, family histories, and local residents' pictures. Walk back through the history of the local area, from pioneering days, steam ship days, and the logging/lumbering era. Visitors are invited to view materials on display. There is free parking, a picnic area, and public washrooms.
Items On Display Include:
Archives – Prints and Drawings
Photographs
Decorative Arts – Costumes Furniture or Furnishings Glass Musical Instruments Textiles or Tapestries
Human History – Agriculture Costumes and Accessories Forestry Furniture or Furnishings Household Objects or Domestic Technology Maps, Charts, Plans or Blueprints Memorabilia Stamps Toys and Games
Publications & Products – There are various local history books available-Reflections of a Century, The Doctor Who Never Refused a House Call, Royston Area, Ryerson Twp. Memories, Armour Township memories, The Darling Diary (Stan Darling), local hand made soap, pins, post cards,
Postcards • Newsletters • Brochures • Books
Watt Farmhouse 

Location: 827 Chetwynd Road, Armour Township
Hours of Operation: June through Thanksgiving
June: Sat & Sun 11 a.m. to 3 p.m.
July/Aug: Wed-Sat 10 a.m. to 4 p.m. and Sun 11 a.m. to 3 p.m.
September-Thanksgiving: Sat & Sun 11 a.m. to 3 p.m.
Admission: A suggested donation of $2/person or $10/family.
Visit the Watt Century Farmhouse and take a step back in time. Filled with local stories and historical artifacts, the Watt Century Farmhouse is rich with history.
John Russell Watt was born to Alexander and Euphemia (Gibson) Watt on March 14, 1856, in Lanark County. In 1874, he came to Armour Township and settled on Lots 10 and 11, Concession 7, at Watt's Dam near the Magnetawan River. This property was obtained through free grants during Queen Victoria's reign in 1878.
On February 23, 1881, John married Mary Marshall (born May 6, 1853). The couple had three children: James Alexander, Richard Paul ("Dick") and Annie Jane.
During 1889, the Watt family moved to Lot 13 Concession 6 and 7 in Armour Township where the couple had four more children: Mary Caroline "Carrie," Euphemia Gibson "Pheme." Margaret Emily and John Edgar Cameron "Jack." A barn was built in 1892, followed by the home in 1902. Mary passed away on July 2, 1931, followed by John on May 7, 1946.
After the passing of Mary and John, their son Jack took over the farm. He married Pearl Jordon on November 27, 1937. The couple had three children: Richard ("Dick"), William ("Bill"), and Karen. Jack passed away on January 30, 1973, followed by Pearl on April 8, 2008.
The property was purchased in May 2012 by Northland Power as the site for the company's Solar East project. After seeing the historical value of the house, Northland Power entered into an agreement with the Burk's Falls and District Historical Society.
Today, the Watt Century Farmhouse is the second heritage Centre of the Burk's Falls and District Historical Society. It was officially opened at the society's Heritage Day on July 25, 2015.
Contact:
Burk's Falls and District Historical Society
Telephone: 705-571-3308
Mailing Address: P.O. Box 463, Burk's Falls, Ontario P0A 1C0
Information and pictures obtained from The Near North Heritage Group, Museums Canada, and http://www.burksfalls.net/Museum.htm